Flash Tattoos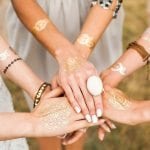 Made popular by celebrities and music festival devotees, metallic, coloured and UV flash temporary tattoos are the new kid on the block! Wearing a flash tattoo will add that perfect piece of styling to whatever you're wearing. These jewellery inspired designs will simply take it to that next level. They can be worn any day of the week, but are especially perfect for parties and any festive event.
Designs are available: Black, white, metallic, watercolour, neon or UV. Edgy geometric patterns clash with contrasting bohemian designs – there are options to suit every personality.
Choose from: friendship bracelets, necklaces with feathers, armbands, anklets, scalloped necklaces, flower medallions, butterflies, gold and silver peacock feather designs.
Invite your friends over for a UV flash tattoo party now! A party where music and movement meet sparkle and patterns; dark and light, dance with shimmer then shine. Yes! It's the perfect recipe for spectacle, where your excited guests will fall from the whirl of dancing geometric designs or just simply feel gorgeous!
Flash temporary tattoos are also ideal to make you all shine at hen's parties, bat mitzvahs and teen birthday parties!
Add abstract eye painting, nail art or feather hair extensions for a fun-filled party.
Goodie bags available for the girls to take home and to continue their look for months to come! Contact us for further prices
[button open_new_tab="true" color="accent-color" hover_text_color_override="#fff" size="large" url="https://www.welovefacepainting.com.au/gallery-flash-tattoos/" text="VEIW OUR FLASH TATTOO GALLERY" color_override=""]