Feather Hair Extensions
Looking for the hottest and most gorgeously delicious trend to entertain your guests in style at the next event?
You've seen them on celebrities like Steven Tyler, Miley Cyrus and Selena Gomez…
Well then look no further than feather hair extensions to add a buzz of fun to your next event!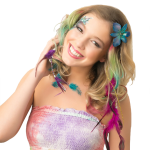 Feather hair extensions are actual feathers available in various fun colours and lengths.
Our Extensions include
Feathers, ornate beads, charms and real butterfly and orchid Jewellery. Girls of all ages and adults too love getting getting their hair styled at events with our unique feather hair extensions .
They are a big hit with kids that are that in the  "Im too cool for face painting" stage.  They are also an ideal entertainment form for Bat mitzvahs and teen parties, and to mix in with another activity such as airbrush tattoos!
Our artists can apply these at your event,  or you can purchase your pre-made kit from our online store.
The application process requires no chemicals, heat or glue, and they can be easily maintained. Your guests can brush and wash them , straighten, curl or blow dry the feather extensions for one to three months.
We offer both woven feather hair extensions and click on extensions. The woven ones last longer and are applied by feeding the hair through a extension bead, clamping the unit down to connect to the hair.
They can be easily removed with tweezers or pliers and will not damage the hair in anyway.  Clip on extensions can be removed at any time and reapplied to the hair. 15- 20 hair extensions can be applied per hour.
Feather hair extensions – what better way for your guests to hold onto the memory of the party for many weeks to come.