Face Painting Workshop
Still Teaching through Covid!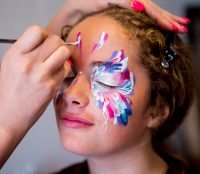 We are currently unavailable for events but we are holding our workshops at our beauty salon in St. Kilda or online. All materials throughly cleaned and hosted at 1.5m.
Our Face painting educational workshops are a fun and relaxing way to learn how to face paint. All face painting materials are supplied on the day. We instruct people of all ages and ability how to face paint at school festivals, youth groups, shopping centers, trade shows and events. Levels range between beginners to intermediate.
Many people believe that they are instinctively not creative. This is NOT true, everyone has the potential to be an artist, all they need to do is learn the basics of face painting, have a little bit of fun, patience and persistence.
Learning how to face paint is also a lot of fun!
We will cover the following in our three hour workshop
Line, blending & One stroke Split cake: brush and sponge techniques
Supplies
Health safety and Hygiene
Do's & dont's
Tip and tricks: Painting Short cuts and how to master your craft faster
Practicing cheek art and full face popular designs
Composition, Symmetry and flow for the design
Problem solving – being out in the field
Furniture set up
Pricing structure
Managing crowds and expectations
Marketing – getting your business started
On completion you will be provided with:
WLFP Painters Certificate
Detailed notes covering everything taught
Brush stroke and split cake practise sheets
A range of beginner to advance face painting references
MSDS – Material Safety Data Sheet
Photo Release Form
Ongoing support
Opportunities to work immediatley in the field.
Beginners:
Personal one on one  1 x person, 3.5 hour training session at $420
Friends: 2 x  people, 4 hours at $550 (you can split the cost)
Small Groups: Max 3 people: 4.5 hours at $300pp
Please email us for available dates
Already painting and want to perfect your skills? You might need a little more one on one guidance that will give you the insight into tips and tricks to perfect your craft. One little change in technique can solve all your problems! One and two hour bookings available. Contact us for more info and to discuss what your after!
Additional hour for these extra components.
Prices at: $100-$140
Airbrush temporary tattoos
Balloon Twisting
* The course is held from the St. Kilda studio or alternatively we come to you. Travel fee may apply
Once you finish the course and signed up for Public Liability your eligible to hit the face painting world! We also have paid trainee gigs to help to get you going, gain field experience, learn from other painters and keep the inspiration going!
Next Available Course Dates:
March 29th at 10am
April 5th at 10am
April 26th at 10am
Face Painting Supplies: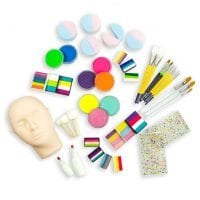 We also face painting kits; the kits include a range of all the top quality essential products you will need to get you started in a career of face painting.
We have mannequin heads available to practice on so don't worry about bringing a model.
Contact us for further information today and to book in for the fun!