Balloon Twisting in Melbourne
Dynamic balloon twisting provides great entertainment for both corporate events and kid's birthday parties! Our roving balloon artist will impress your guests with their fabulous balloon sculptures to take home as a memory of the day.
Our phenomenal artists are fast and highly experienced, they have all the latest designs and characters to choose from. They're not only super talented but also fantastically funny!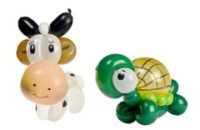 Mix up the activities at your next party by having our creative balloon artist twist your favourite animal, superhero, or fancy fairy.
[button open_new_tab="true" color="accent-color" hover_text_color_override="#fff" size="large" url="https://www.welovefacepainting.com.au/gallery/gallery-balloon-twisting/" text="VIEW OUR BALLOON TWISTING GALLERY" color_override=""]
Balloon Decor
Wow your guest with our amazing Balloon Décor arrangements!
Let us do the work for you – simply convey the space and theme, and we will bring your event to life with our fabulous balloon pieces.
Perfect for: Weddings, office foyers, birthday parties, corporate functions and community events.
Every occasion and holiday: Christmas, Easter, Halloween, Valentine's Day, weddings, birthdays, first communion and themed parties.
Designs on offer: Table centrepieces, arch columns, wall backdrops, giant cartoon statues, balloon stands, helium balloons, hamper packs, candy bar presentation.
[button open_new_tab="true" color="accent-color" hover_text_color_override="#fff" size="large" url="https://www.welovefacepainting.com.au/gallery/gallery-balloon-decor/" text="VIEW OUR BALLOON DECOR GALLERY" color_override=""]