Kids & Teen Party Entertainment
Bring smiles to your child's special day with our amazing entertainers! We can accommodate any theme to suit your child's party! It is thrilling for the kids to be entertained by their favourite popular character and provides endless amounts of amusement throughout the years.
Our entertainers are the perfect solution to keeping the kids entertained and let the adults have some time to celebrate too!
Awesome ideas for your next party!!
Check out our Package deals. We are here to make your party a stress free event! Feel free to call us to discuss any queries you may have.
Costumes: Princess Elsa, Princess Anna, Olaf, Fairy, Superheroes, Cinderella, Princess Belle, Pikachu, Luigi, Ladybug, Snow White, Dragon, Mermaid, Viking, Pirate, Racing Car Driver, Emma Wiggle, Minnie Mouse, Clown, Circus theme, and Buzzy Bee.
Colouring Stations: Let us know if you'd like us to supplies WLFP colouring sheets and a set of crayons with fun stick ons. No addtional charge

Optional extras:
Party Games:
Musical statues, Simon says, under the parachute, limbo, balls in the basket, animal bob down, duck and goose, sack race, egg and spoon race, scarecrow tiggy, three-legged race, tied in a knot, hidden hearts, tunnel ball game, sock game and pom poms.
Goodie Bags:
We have a range of goodie bags with all sorts of treats to entertain the little ones at your next party.
Each bag contains stickers, temporary tattoos, cute notepad and coloured pencils.

Mascots:
Our range of Mascots includes Peppa Pig, Poppy (Trolls), Dorothy the Dinosaur, Easter Bunny, Minnie Mouse, Minion, Olaf, Ninja Turtle, SpongeBob, Barney, Chase and Marshall, Spiderman, Super Mario Brothers.
Are your teenagers at the "too cool for face painting" stage? We have plenty of other fun and popular options, including abstract eye designs, airbrush tattoos, glitter body art, flash tattoos and feather hair extensions.

If you're looking for a unique birthday present check out our online store! We have something different loved by all ages from hair accessories to real butterfly and orchid jewellery. Get Justine in – our amazing Mural artist to paint your child's favourite theme on their wall.
[button color="accent-color" hover_text_color_override="#fff" size="large" url="https://www.welovefacepainting.com.au/gallery/gallery-childrens-parties/" text="Click here to view the Children's Party Gallery" color_override=""]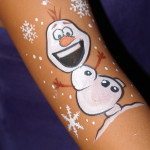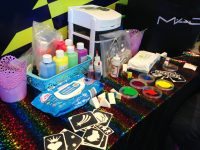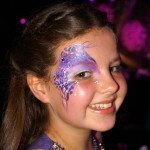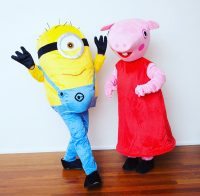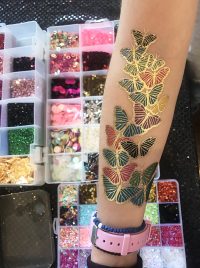 Some of our happy clients