Kids & Teen Parties
Bring smiles to your child's special day with our amazing entertainers! It is thrilling for the kids to be entertained by their favourite popular character and provides endless amounts of amusement throughout the years.
We offer package deals of face painting, balloon twisting, feather hair extensions, flash tattoos, magic, comedy and games, candy bars, henna, caricatures artistry, airbrush or glitter tattoos, Uv face and body painting and Frozen theme parties,  Our entertainers are the perfect solution to keeping the kids entertained and let the adults have some time to celebrate too!
We can accommodate any kids face painting theme to suit your party!
Check out our kids party package deals available: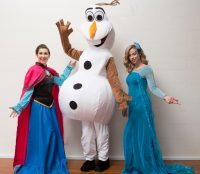 Package 1: Face Painting & Balloons (up to 20 kids) 2 hours $240
Package 2: Face Painting, Balloons & frozen Elsa sing alongs (up to 15 kids) 2 hours $260
Package 3: Face Painting, Balloons & Games (up to 15 kids) 2 hours $250
Package 4: Face Painting, Balloons, Feather Hair Extensions (up to 20 kids) 2.5 hours $300
Package 5: Face Painting, Balloons, Tattoos & Games (up to 20 kids) 3 hours $320
Package 6: Nail Art, Flash Tattoos & Feather Hair Extensions (up to 20 kids) 2.5 hours $300
Package 7: Dynamic Magic, Balloons & Comedy (up to 20 kids) 2 hours $300
* All Packages include the artist dressed up in costume on request and can also provide furniture and bubble machines at no additional charge.

Games include:
Frozen disco, bubble machine, tail on the donkey, simon says, musical statues, limbo, balls in basket, animal bob down, duck N goose
Costumes:
Princess Elsa, Princess Anna, Fairy, Olaf, Superheroes, Cinderella, Princess Belle, Pikachu, Luigi, Ladybug, Snow white, Dragon, Mermaid, Viking, Pirate, Car racing driver, Emma Wiggle, Minnie mouse, Clown, Circus theme, and Buzzy bee.
Party gift bags:
We have a range of gift bags with all sorts of tricks and treats to entertain the little ones at your next party. Each bag contains: Stickers, temporary tattoos, cute note pad and coloured pencils.
If your teenager is getting too cool for face painting we have lots of fun and popular way to keep the young adults entertained with abstract painting eye designs, airbrush temporary tattoos, flash tattoos and feather hair extensions
Bar & Bat Mitzvah package
Feather hair extensions, temporary tattoos and abstract eye painting: 1 x artist 3 hours (up to 30 kids) $330 Additional fee of $2.5 for synthetic decorative hair extensions and $4 for real feather hair extensions. * We also accessorise with coloured hair spray, hair chalk and hair styling.
Click here to view the Children's Party Gallery