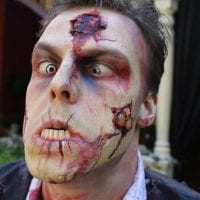 Did you know that Halloween is recognized as the third biggest holiday of the year?
Every year people spend a ton of money to find the perfect costume and have a night of magic and mystery. Halloween face painting ideas are a great way to take those looks to the next level. Read on to learn how to create some of the best looks no matter what age or gender you are.
For Women Who Want to Look Scary
While many women dress in sexy costumes for Halloween, there are a lot of options out there. Check out these scary feminine face paint ideas.
Bleeding Eyes
If you want to look really scary this Halloween, consider giving yourself some bleeding tears.
Start by making your face lighter by using a white foundation, then contour your cheekbones to create a haunted look. Next, apply a dark colour to the bottom of your brow bone in the crease of your eye to make yourself appear to have a slightly hollow look.
To finish the look, apply a dark eyeliner and smudge it to create a smokiness. Then apply your red blood tears to the inner creases and edges of your eye to make it look like you're crying blood.
Spiderwebs
Spiderwebs are a great way to make your costume more creepy if you're dressing as a witch. Consider putting some around your eyes or at the corner of your mouth along with your lips. Bonus points if you put an actual spider on your web.
Special Effects Makeup
If you want to really impress your friends, you should look up some YouTube how-to videos on how to do special effects makeup like ripped skin, gross lesions, and more. You'll love getting carried away with the guts and gore.
Customized Contacts
To take any costume to the next level, consider buying a pair of custom contacts. They make them in all sorts of different colours and patterns from red to purple to black and more.
Zombie
A zombie look is super easy to create. Simply use black to darken your eye sockets and then make it look like the flesh is falling off of your face and rotting.
For Women Who Want to Look Sexy
Most women like to go for a sexy look on Halloween. Check out the suggestions below.
Cheetah
A cheetah is a great option for both children and adults. All you have to do is draw a nice cheetah print and accentuate it with glitter. Add a nose if you want to take things a step further.
Pop Art
Pop art makeup is a lot of fun. Simply draw in some harsh lines to make yourself look like a drawn cartoon character. Then use a brush to paint small dots of colour all over your skin to make it look like you're made of ink.
Popular Women's Facepainting Looks
Every year certain costumes seem to take the country by storm. Check out how to create these popular looks.
Harley Quinn
To do your face painting as Harley Quinn, start by applying a very light foundation colour to your face. Then use a glitter to highlight your cheekbones and make them catch the light.
Next, move on to your eyes. You want to put a thick layer of eyeliner on and smudge it. Then come back in with your face paint and create a thick layer of electric blue on one eyelid and a thick layer of pink on the other eyelid.
Now use a sponge to smear some of the red and blue from your eyes down your cheekbones so it looks almost as if you were crying off the lid colour.
Now it's time for your lips. Create an ombre look by using a berry liner and a bright red colour in the centre of your lips.
Finish with glitter on your eyes and a black heart is drawn on your cheek.
Catwoman
Women love to be Catwoman because she is sexy and powerful. Try drawing a sexy mask on your face and dressing in a tight black outfit.
For Men Who Want to Look Scary
If you want to look scary this Halloween, you need to know how to make a look that creeps people out. Check out these suggestions.
Stitched Mouth Makeup
Stitched mouth makeup is one of the easiest ways to make yourself look scarier. Simply extend the corners of your smile far beyond your lips and draw in stitches.
Wounds, Warts and More
Wounds and warts are a great way to make yourself look gross and disturbing. Try watching some of your favourite movies and attempt to recreate the goriest looks.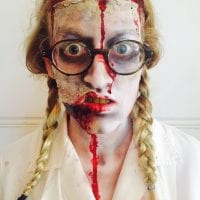 For Girls Who Want to Look Scary
Many girls want to be scary just as much as boys. Here are a couple ideas to inspire fear.
Tiger
A tiger look is very common in face painting. Start by painting their entire face orange. Then, simply paint stripes around the edges of your face and take them in as far as you want. Then paint a nose and tongue on before clipping on some ears.
Witch
To create a witch look, start by painting the entire face green. Then add on a wart on one cheek and create the illusion of sharp cheekbones.
For Girls Who Want to Look Pretty
Some little girls just want to look beautiful. Check out these easy-to-style looks.
Fairy Princess
A fairy princess look is super easy to create. You can either style it after someone like Princess Elsa from Disney's Frozen and use a ton of glitter and light colours. Or, you can head more in the direction of fairytales by using bright colours to create a unique royal look.
Butterfly
A butterfly look is one of the most traditional requests in face painting. Children love the beauty of the symmetrical butterfly and there are so many different colours you can use to make your butterfly unique.
Minnie Mouse
Dressing up as Minnie Mouse is fun especially for young girls who can't yet decide what look they want for themselves. Dress your child up in a red Minnie dress and black ears and then use face paint to bring the look to the next level. Give her some rosy cheeks and a nice red smile.
Mermaid
For an easy mermaid look, consider using a stencil to create scales on your face with a combination of light face paint and a lot of glitters. To really make the look pop, add some glitter to the inner corners of your eyes too.
Finish with some sort of strange coloured lipstick like blue or purple to give an under-the-sea kind of look.
For Boys Who Want to Look Scary
Some little boys want to run around with scary face paint for Halloween and try to spook all their friends. Check out these great suggestions.
Monster
There are so many different ways to put your own spin on the monster look. Consider going for a Frankenstein kind of look, or for more terror Google some of the worst horror movie characters in history. There's sure to be something terrifying.
Clown
Although originally they were a source of happy entertainment, today the clown stands out more as a figure from horror movies. Put together a creepy clown costume by ripping up a bright coloured outfit and drawing a really scary face on yourself.
For Boys Who Want to Look Cool
Not every boy wants to run around on Halloween scaring the other kids. Check out these super cool face painting ideas for boys with less extreme tastes.
Superhero Face Paint
Superhero face paint is great for men and boys alike. Everyone wants to play the hero. Consider painting a fun mask to hide their identity like they wear in The Incredibles.
Pirate
A pirate look is a great costume idea since there are so many variations, you can easily put together an outfit from what you already have at home. But to take the look to the next level, you can use face paint to truly transform a child into a pirate.
Try painting an eye patch over one of their eyes and putting some brown on their face that looks like smudges of dirt. Finish the look with a red bandana for their head and fake pirate's teeth.
Dalmatian
A dalmation look is an easy and very cute face painting idea. Simply paint small black spots in various shapes all over the child. Then, paint a big pink tongue sticking out of their mouth and a black nose. Finally, paint a large black spot over one of their eyes.
To make the dog look more realistic, put a dot of white paint on one side of the tip of the nose to make it appear moist. Finish the look with a pair of black dog ears.
More Halloween Face Painting Ideas
Now that you have read this great list of Halloween face painting ideas, you're ready to create the ultimate look for your costume.
For more great suggestions and help creating your look, check out our special effects makeup or learn more about face painting today.