Mascots
We offer a range of Mascot costumes to suit your next themed party or corporate event!
Mascots available:
Peppa Pig, Poppy (Trolls), Dorothy the Dinosaur, Easter Bunny, Minnie Mouse, Minion, Olaf, Ninja Turtle, SpongeBob, Barney, Chase & Marshall, Spiderman, Super Mario Brothers.
Corporate Events
WLFP can service your next big event with our very talented team to create a powerful impact that everyone will be talking about for months to come! Have one of our mascots visit your event to share photo opportunities and give lots of high fives. Sure to attract the crowds and bring brand awareness.
Birthday parties
Wow your little ones with a visit from their favourite cartoon character! Wish them a happy birthday with their friends that they will never forget. Big hugs and lots of interactive fun with heaps of games, prizes and guaranteed laughter.
Our Entertainers are fun, high energy and super talented at providing heaps of cool entertainment such as face painting, balloons, dancing, tattoos and more.  Check out what WLFP has to offer and contact us today for your personal quote!
Add on some of our other cool activities: Face painting, Balloon twisting, Glitter art, Games.. the list goes on! 
Picture time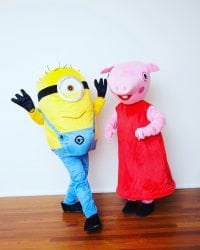 Each child will receive a picture to cherish
* All artists have working with children checks and public liability.                                                                                  For corporate pricing, please contact us directly for a detailed quote   
VIEW OUR MASCOTS
EVENT PHOTOGRAPHERS
Disclaimer: Please be aware when booking our characters, that WLFP do not offer copyrighted characters. This means that the costumed mascots/costumed characters offered by WLFP are NOT named brand copyrighted characters. As such, the mascots/costumed characters that we offer are our purely our own creations. Therefore, any resemblance to a known or a copyrighted character is incidental and is not intentional. WLFP has no intention of violating copyright laws. for your event.