A little about Us
We Love Face Painting! is based in Melbourne, Victoria. Established by Shelley Bledsoe in 2007. With a background in Makeup Artistry and cosmetic tattooing, face painting was a natural progression. Our face painting team thoroughly loves what we do and pride ourselves on our reliability, professionalism and creating the highest quality of work.
Our face painting designs range from popular full face paint to cheek art. We can create any magical face painting design  that you desire from scary monster faces to beautiful fairy butterflies.
We love our work because it is such a great joy to make people feel special. We love how face painting makes us feel too! Our greatest reward is feeling connected to the community, we are privileged to share in your special occasions, and to meet people from all walk of life. We love to watch the magic of face or body art impact on peoples' lives. It is our teams sincerest desire to provide each person we face paint with a feeling of joy, satisfaction and personal value in the time we spend with them.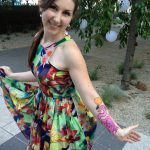 Our face painters will arrive in costume free of charge on request for a 2 hour minimum booking.
Our face painters use only the highest of quality paint which is water based, not toxic, hyper allergenic, and is easily removed with warm water. We also can supply our own furniture and face painting signage for no additional fee on request.
We specialise in large events, and have the ability to supply many artists for your upcoming event or festival.  We love Face Painting hopes to be entertaining for you soon!
View Our Entertainers